Picture your dream kitchen. High ceilings, tons of space, marble counters, loads of cupboards, a walk-in pantry, a massive double-door fridge/freezer, an eye-level oven, and an epic island that can seat eight people. Now, look at your actual kitchen. Small, cramped, no cupboards, awful stove, dark and dingy. It sucks, right? We feel your pain.

Not everyone can have the kitchen of their dreams. Some of us have to live in tiny city apartments, where rentals are ridiculous, and space is at a premium. And even if you finally crack and move to — cringe —  the suburbs, it's likely that your starter home would also be less than the palatial mansion of your childhood fantasies.

Don't despair yet, though. You don't need to save up for an expensive remodel. There are plenty of ways to optimize the space in your tiny kitchen, and you don't have to knock down a single wall. Here are just a view basic tips.

Hang it up: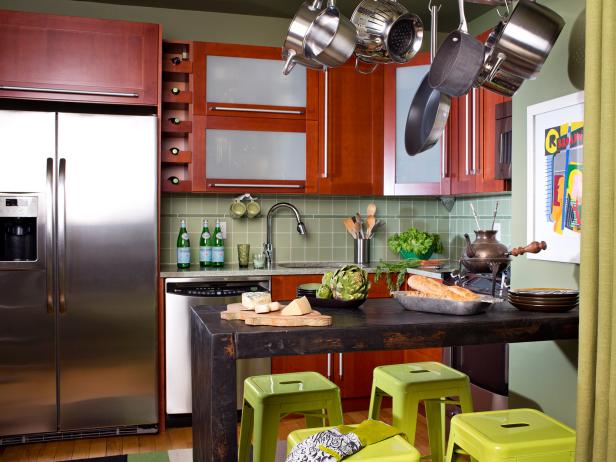 The problem: you don't have enough space to pack away all your pots and pans and utensils. The solution: hang it up! If you have plenty of bare walls, use that space. You can also use the insides of your cupboard doors. Or you can install hooks to hang up pots and pans from the ceiling or walls. Cups can hang from hooks at the bottom of eye-level cupboards. And you can hang up small utensils like spatulas, tongs, mixing cups, etc. on your walls or inside your cupboard doors. Just go ahead and adorn every exposed surface with something.

Add shelves:


Don't let a lack of cupboards make you lament your lack of storage space. You can install shelves cheaply to add plenty of vertical storage space.

Replace your knife block:

Knife blocks are great for storing your knives safely. They also take up precious counter space. You can reclaim this space by — you guessed it — chucking your knives on the wall. A magnetic knife strip will keep your knives out of harm's way, and off your counter.

Install a pull-out pantry:

As great as it is to have a walk-in pantry, you don't have to give up this convenience completely if you're short on space. A pull-out pantry is the ideal upgrade for narrow, otherwise-impractical spaces. Just pull it out, pack your cans and other imperishables on the multitude of narrow shelves or racks, and access them easily when you need them.

Change your windows:

You can make a huge difference to your kitchen by changing your windows. Just a simple window glass replacement job can already improve your experience. A one-way privacy film can replace curtains, if you can't spare the space that the drapes take up. A solar-reflective film can also help to keep things cool. But if you can spare a few more bucks, a garden window can add a bit more space to your kitchen. You can use the protruding window box to grow a herb garden, for instance.

Ditch the door:

Finally, you probably don't really need a door in your kitchen. Just remove it to make the space feel a bit roomier.