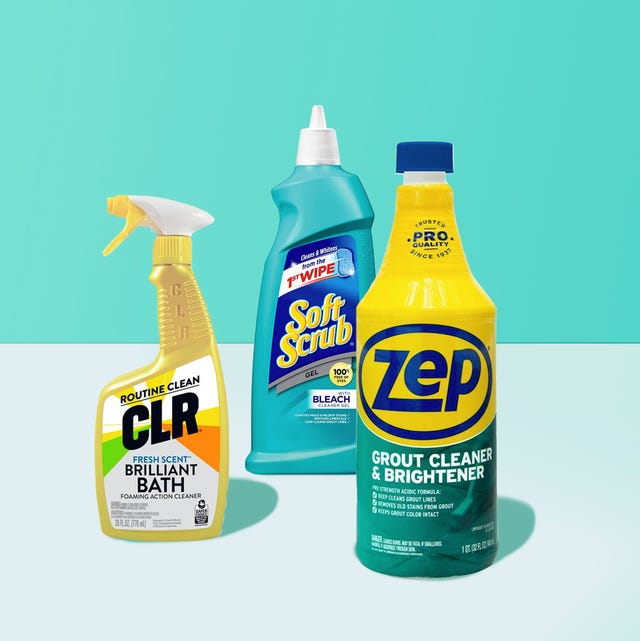 CLR/Soft Scrub/ZEP
We updated this article in December 2022 to add more information about each featured product and to answer a few more frequently asked questions about tile grout cleaners. We also added a new pick from CLR, based on extensive testing done by the Good Housekeeping Institute Cleaning Lab.
---
As much as we try to keep it clean, white grout inevitably gets dingy and discolored, especially in corners and along edges where water settles. That's why you need a good grout cleaner. Nothing provides a faster facelift for your bathroom than learning how to clean grout to restore its brilliant state, but it isn't always an easy task.
In the Good Housekeeping Institute Cleaning Lab, we test hundreds of floor-cleaning, bathroom-refreshing and stain-zapping products every year. Our experts have spent thousands of hours researching and testing everything you need in your cleaning toolkit to keep your home sparkling, from the best steam mops and vacuums to the top tools to clean toilets. It's difficult to replicate in the Lab the mildew, mold, soap scum and hard water stains we see at home, so we take each product home to clean our own grout. We assess how well the products clean and how easy they are to use; we also review the labels of all products for helpfulness and safety precautions.
Our top picks:
It's important to note that if you have mold growing on your grout, you will need to use a disinfectant cleaner (likely with bleach) to kill the mold spores and prevent them from reappearing. If that doesn't work, it may be time to call in the professionals for a deep cleaning and resealing of your grout. You can read more about how we test tile grout cleaners and find answers to some frequently asked questions at the end of this guide. Looking for more ways to keep floor tiles clean? Check out our guides to the best mops and the more hands-off robot mops.
Advertisement – Continue Reading Below
1
Best Overall Grout Cleaner
CLR
Brilliant Bath Foaming Bathroom Cleaner Spray (Pack of 2)
| | |
| --- | --- |
| Type | Foaming spray |
| Safe for use on | White grout, plastic, glass, chrome, ceramic, fiberglass, porcelain, sealed granite and stainless steel |
| Wait time | 2 to 3 minutes |
| Scent | Fresh scent |
2
Best Grout Cleaner for Natural Stone
Granite Gold
Grout Cleaner
| | |
| --- | --- |
| Type | Spray |
| Safe for use on | Stone, ceramic, glass and colored grout |
| Wait time | 2 to 3 minutes |
| Scent | Citrus |
3
Best Grout Cleaner for Showers
Soft Scrub
Bleach Cleaner Gel
| | |
| --- | --- |
| Type | Gel |
| Safe for use on | Bathtubs, countertops, showers, sinks, stovetops, tiles and toilets |
| Wait time | Less than one minute |
| Scent | Unscented (mild bleach scent) |
4
Best Germ-Killing Grout Cleaner
Clorox
Tilex Mold and Mildew Remover with Bleach
| | |
| --- | --- |
| Type | Spray |
| Safe for use on | Glazed and unglazed ceramic tile, grout, vinyl, fiberglass and plastic |
| Wait time | 5 to 10 minutes |
| Scent | Unscented (bleach scent) |
5
Best Grout Cleaner to Prevent Mildew and Mold
Microban
24 Hour Bathroom Cleaner
| | |
| --- | --- |
| Type | Spray |
| Safe for use on | Plastic, painted wood, sealed wood, painted surfaces, stainless steel, aluminum, glazed porcelain, glazed ceramic, sealed granite and marble |
| Wait time | Allow to air dry for mold and mildew prevention |
| Scent | Citrus |
6
Best Stain-Removing Grout Cleaner
CLR
Mold and Mildew Stain Remover
| | |
| --- | --- |
| Type | Foaming spray |
| Safe for use on | Ceramic tile, hardwood floors, baseboards, fabrics, glass, metal, brick, concrete, marble, laminated countertops, fully cured and oil-based painted surfaces, hard plastics, automobile tires, wood, grout and fiberglass |
| Wait time | 10 minutes |
| Scent | Unscented |
7
Best Grout Cleaner for Floors
ZEP
Grout Cleaner and Brightener
| | |
| --- | --- |
| Type | Liquid |
| Safe for use on | White and colored grout |
| Wait time | 2 to 3 minutes |
| Scent | Unscented |
8
Best Grout Cleaning Brush
Casabella
Smart Scrub Heavy Duty Tile and Grout Cleaning Brush
| | |
| --- | --- |
| Type | Brush |
| Safe for use on | Casabella |
How we test tile grout cleaners
When the Good Housekeeping Institute experts test bathroom cleaning products, we test them in the lab and bring them home to test on our own soap scum, mildew and hard water stains. In the Cleaning Lab, we assess how easily and quickly they cut through the dirty grout lines on our ceramic and marble tile test panels. We note the wait times and how much scrubbing is required for each cleaner to work. We review the labeling and directions for completeness and for any required safety precautions, and we evaluate how easy the products are to apply and rinse off.
Products that are submitted for consideration in our annual Cleaning and Organizing Award are shipped to our team of consumer testers to clean and assess the performance on the soap scum and mildew-stained grout in their own showers, which you just can't duplicate in a lab.
What to consider when shopping for the best grout cleaner
It may seem like all grout cleaners are created equal, but that's not necessarily the case. When choosing the best cleaner for your dirty grout, keep the following points in mind:
✔️ Grout material and color: Read the label before buying any grout cleaner to be sure it is safe to use on the surfaces you'll be cleaning. Some are suited only for white, not colored, grout, and others can damage adjoining tiles made of natural stone, like marble or granite.
✔️ Cleanser form: Sprays and foams are easy to apply, but can run or drip off vertical surfaces before the job is done, meaning you may have to reapply. And they may produce fumes that can be irritating to some, especially when used in small spaces. Thick gels stay in place for longer, but they can take more effort to rinse away.
✔️ Scope of the job: Bleach is a great whitener and germ-killer, so if your grout is very badly stained with mold and mildew, a strong bleach-containing cleaner will be your best bet and will likely require the least amount of scrubbing. If you'll be cleaning dirty or discolored floor tile grout or you're fastidious about drying the shower daily and have only occasional spots, a milder formula should suffice.
How to prevent mildew in the first place
Taking care of your tile grout starts with preventing the mildew that makes grout dingy in the first place. Mildew grows in warm, moist conditions. Here's how to stop mildew in its tracks:
While showering, open a window and run an exhaust fan in the bathroom, if you have one; this will help the moisture produced from a shower dissipate faster.
Squeegee shower walls or dry them with a towel after the last person in your household showers for the day to keep grout dry.
Spray a product, like Microban's 24-Hour Bathroom Cleaner, weekly to prevent mold and mildew growth, soap scum build-up and hard water stains.
Keeping grout sealed to prevent moisture and stains from penetrating the surface is important too. Reseal bathroom grout lines once a year to keep grout protected.
How do I get my grout white again?
A spray or gel cleaner and a heavy-duty grout cleaning brush are often all you need to make grout look new again. But if you've tried store-bought grout cleaners and are still struggling with yellowing grout, try this DIY method from our cleaning experts. Mix ¾ cup household bleach with 1 gallon of water. Wearing rubber gloves, apply the mixture to the grout, being careful not to get it on any fabric or other material. Allow it to sit for several minutes then scrub with a stiff brush and rinse well.
It's important to note that if your grout is not white to begin with, using bleach to clean it will likely remove the color from the grout. If not even this bleach mixture seems to work, it might be time to call in the pros for a professional grout cleaning or to reapply and reseal your grout.
How often should you clean tile grout?
If you want to avoid having to deep clean your tile grout with the bleach mixture mentioned above, it's best to add your home's tile grout to your usual cleaning routine. Use a cleanser that requires little scrubbing about once a week or whenever you start to notice your grout is becoming a bit discolored.
Why trust Good Housekeeping?
As the Executive Director of the Home Care and Cleaning Lab, Carolyn Forté tests hundreds of cleaning appliances, products and tools each year. Every product in this roundup was vetted, researched or tested by Forté and her dedicated team of analysts and consumer testers.
Advertisement – Continue Reading Below