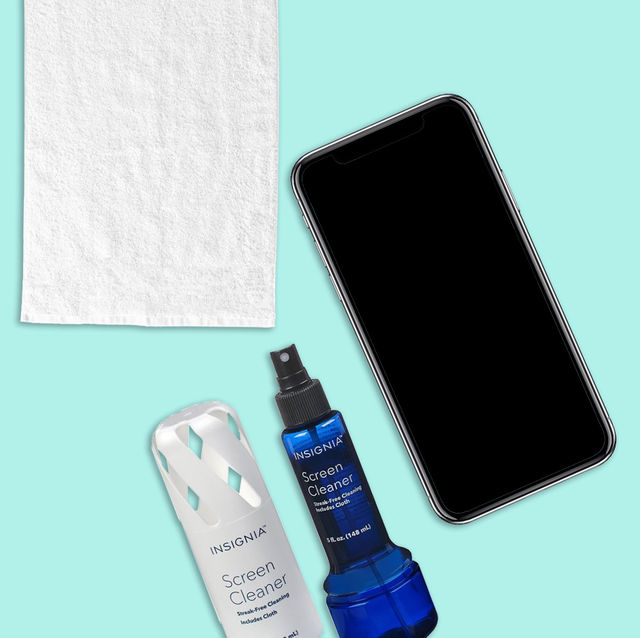 bestbuyGetty Images
We updated this article in January 2023 to add more frequently asked questions about screen cleaners based on extensive testing done by the Good Housekeeping Institute. Our original top-rated picks, selected by the GH Cleaning Lab remain the same.
---
In recent years, we've all become more acutely aware of just how many germs are out there. And, as a result, we've all adopted practices to help keep high-touch surfaces around us clean. And is there anything that gets touched more than the phones, laptops and other gadgets we use to stay connected to the world around us? They are essential lifelines, so it's no wonder they get assaulted with dust, greasy fingerprints, grime and germs — lots and lots of germs.
Regularly cleaning your phone and laptop is important not only to keep your gadgets looking great but for your personal safety and to help your devices work better, too. When the Good Housekeeping Institute Home Care & Cleaning Lab tests screen cleaners, we first evaluate items for safety, ensuring any products we're considering don't contain potentially gadget-damaging chemicals like ammonia. Then, we test all screen cleaners on a variety of devices, both large and small, to measure efficacy. Our top picks for screen cleaners include top-performing products from our latest tests and those highly rated in online consumer reviews.
Our top picks:

Below our picks, you can read more about how we evaluate screen cleaners in our Lab — plus learn all about how to shop for screen cleaners and find out whether or not it's safe to use disinfecting wipes on phones. Check out our guides to cleaning your laptop the right way and the best way to clean a TV screen.
Advertisement – Continue Reading Below
1
Best Overall Screen Cleaner
Weiman
Anti-Static Electronic Cleaning Wipes
2
Best Value Screen Cleaner
E-Cloth
Personal Electronics Microfiber Cleaning Cloth
3
Best Screen Cleaning Spray Kit
Insignia
Screen Cleaner
| | |
| --- | --- |
| Type | Liquid and cloth |
| Size (liquid) | 5 ounces |
4
Best Portable Screen Cleaning Wipes
Zeiss
Mobile Screen Wipes
5
Best Laptop Screen and Keyboard Cleaner
OXO
Good Grips Sweep & Swipe Laptop Cleaner
| | |
| --- | --- |
| Type | Brush and microfiber pad |
| Count | 1 |
6
Best Screen Cleaning Kit for Travel
WHOOSH
Screen Cleaner Kit
| | |
| --- | --- |
| Type | Liquid + Microfiber Cloth |
| Size | 3.4 ounces + 0.3 ounces |
7
Best Screen Sanitizer for Phones
PhoneSoap
Pro UV Smartphone Sanitizer & Universal Charger
8
Best On-the-Go Screen Cleaner Cloth
Toddy Gear
On-the-Go Smart Cloth
How we test screen cleaners
When we test screen cleaners in the Good Housekeeping Institute Cleaning Lab, we are first and foremost concerned with how safe they are to use on delicate devices and whether they may cause any possible harm to screens and coatings. For pre-moistened wipes and liquid sprays, we check the ingredients for potentially damaging culprits, like ammonia, and steer clear of recommending products that contain them. For dry cloths, we look for a convenient and usable size and how easy they are to launder and clean.
We test all screen cleaners on a variety of devices — large and small and from different manufacturers — for how well they clean, how easy they are to use and store, how quickly they work and whether they leave any residue behind.
What to look for when shopping for best screen cleaners
There are tons of screen cleaning options on the market, but always check your device's recommended cleaning instructions before purchasing any cleaner. Here are some things to consider when shopping for screen cleaners:
✔️ Size: It's best to determine the size of the screens you plan to clean when shopping for cleaners. Microfiber cloths and electronic screen wipes will work on a variety of screen sizes. If you are looking for a wipe that can clean your laptop, mini pre-moistened wipes made for smartphones might not be large enough for a thorough clean. On the flip side, a large TV wipe used on a phone wastes product.
✔️ Cloth: Not every cloth is designed to remove fingerprints and dust. Some can actually make your dirty screen look even worse. Stick to microfiber cloths that are delicate enough to leave your screen scratch-free but still collect dirt, dust and grease.
✔️ Formula: Always look at the indigents listed for your cleaner — screens are sensitive, and harsh chemicals can cause damage to the surface. For regular use, it's important to use products specially made for screens. Disinfectant wipes containing alcohol can be used occasionally to remove germs, but try to avoid bleach- and ammonia-based products.
Are disinfecting wipes safe for cleaning screens?
When it comes to cleaning electronics, the Good Housekeeping Institute Media and Tech Lab always recommends following the device manufacturer's recommendations for safety. And while this is always a good practice, many of those recommendations are extra gentle to keep from damaging the anti-glare, fingerprint-resistant and other protective coatings on a device's surface.
Simply wiping with a cloth will remove grime — but if you want to actually kill germs, you need stronger measures. As a result, companies like Apple have recently acknowledged that disinfecting wipes, like Clorox and Lysol, and 70% alcohol wipes can safely be used on its devices.
If you have them at home and want to use them, make sure the wipe isn't overly wet and no liquid seeps into any openings or ports. After air drying, wipe your device with a clean cloth to buff away any residue.
Is it ok to use Windex on an electronic screen?
You should never use a conventional glass cleaner like Windex on your electronics. Windows and electronic screens — phones, laptops and TVs — have different cleaning needs. While some electronic screens may have a glass layer over the display, not all do. Plus, the spray can get into ports that need to stay dry in order to function properly. Use a clean, dry microfiber cloth to safely remove streaks, smudges and even bacteria. Alternatively, you can use a product specifically made for electronic screens, like the ones listed above.
Why trust Good Housekeeping?
Carolyn Forte brings over 40 years of experience a as consumer products expert to her role as Executive Director of the Home Care and Cleaning Lab. She has deep analytical testing and editorial writing expertise in categories like washers, dryers and vacuum cleaners, cleaning products and all things and tips needed to keep a home clean and organized.
Advertisement – Continue Reading Below