Often, people refer to the popcorn ceiling as a stucco ceiling. But. these are two different things. Stucco is  a sand-based mixture mixed with lime sand and water. Where popcorn. is much different in that it is made  of vermiculite or polystyrene mixed in with a chalky powder to cover the 
Dust-free stucco/popcorn removal popcorn removal by sanding ceiling flat 
People ask is it hard to remove stucco? 
If they're referring to popcorn ceiling removal and not stucco removal then the answer is, removing  popcorn ceilings can be removed by a number of methods. 
How do you remove stucco?
Popcorn ceiling removal can be performed by simply scraping off the popcorn ceiling with a 6 or 8  inches wide plastering blade on the end of a pole, called dry scrape This depends on how much popcorn  has been sprayed on. In some cases, if the popcorn ceiling texture is sparse which would make it easier to  scrape off to a smooth ceiling. 
This is a very dusty ordeal make sure you cover everything or remove anything from the room and wear a  mask and goggles to keep the particles out of your nose and out of your eyes. 
Other ways, How do you remove stucco from plaster walls? 
remove the popcorn ceiling can be handled also by first wetting the ceiling with a water bottle or sprayer  softening the texture making it easier to scrape off. Ceiling removal can be very messy. Now you have a  wet mucky floor to stand on creating a mess that you have to be careful with not to track around the  house. After the popcorn ceiling has had time to absorb the water. You can continue with your popcorn  ceiling removal process. 
What is the best way to remove a textured ceiling? 
Hire, professional services to do your popcorn ceiling removal. They have years of experience working  with popcorn ceilings and popcorn ceiling removal. The professional popcorn ceiling experts here at  Mississauga handyman can do an amazing job on your popcorn texture removal. At the same time, we  can do any drywall repairs and work around your pot lights allowing a perfectly smooth consistent  popcorn ceiling. And that is what you are looking for a nice smooth ceiling even all the way around. 
You might how long does it take to remove popcorn ceiling?
When you hire Mississauga handyman for removing stucco ceiling you are going. to receive a very  smooth finish on your ceiling. We prepare your ceiling ready for paint on some occasions as quickly as  one day. This depends on things that have to be done during your popcorn removal process. You might  have ceiling fans and crown molding, baseboards that have to be protected and covered from plaster dust.  Also, your floors in your house whether it is in Toronto or Mississauga. there will be lots of sanding and  scraping imperfections. This all creates dust. 
Other professional techniques used. 
Licensed professional dust-free popcorn ceiling removal equipment is used such as our planex sanding  machine this removes Most of the airborne and free-falling popcorn ceiling particles. This is a  professional piece of equipment used to remove popcorn ceilings without damage and limited amount of  dust. It has a large sanding surface that sands off the popcorn leaving a smooth finish. 
The dust extraction end of this set up consumes all the dust generated by the sanding. This leaves for a  much tidier and cleaner ceiling and very little cleanup. It is a costly investment for a one time use. This  equipment can also be used when doing drywall work and the plastering has to be sanded smooth. It is  quick and basically effortless compared to a pole sander that has to be manually pushed and moved up  and down with greater amount of effort. And there is no dust collection with a pole sander. 
Get your free estimate 
Mississauga handyman services (is your house painting and textured ( ceiling removal company) we are  professionals working with drywall repairs and house painting. We aim to complete your project as  quickly as possible whether it was drywall or painting. When we completely remove popcorn ceiling  problems and get it ready for paint we are professionals at painting also since that's where the business  started. 
Our company service area for homeowners in Toronto(greater  Toronto area), Mississauga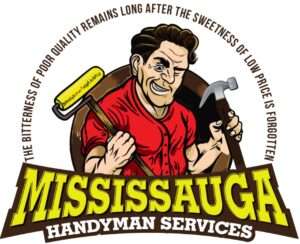 Mississauga Handyman You 
don't have to worry about removing popcorn ceiling issues, we have you covered we have everything  from painter's tape to joint compound, drop cloths, and plastic to cover your furniture. You will be so  happy with your new drywall ceilings and painted. Just give us a call at 416-568-3547 to make. your job  fairly easy