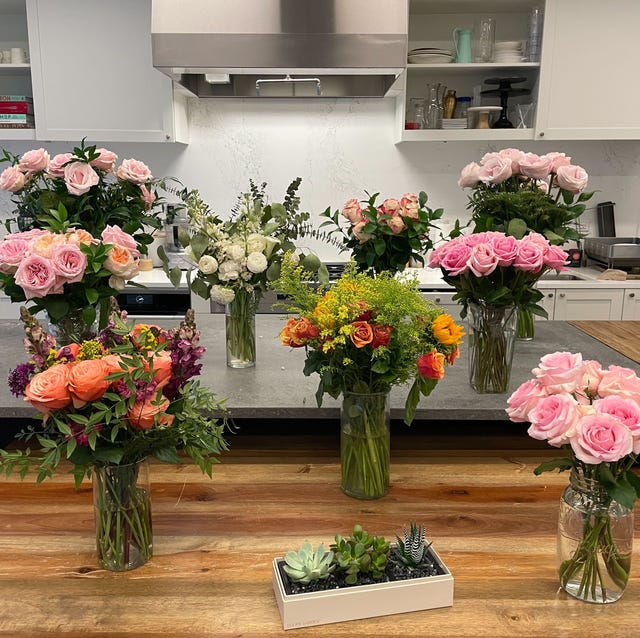 We updated this article in January 2023 to add more information about each featured product, based on extensive testing done by the Good Housekeeping Institute. Our original top-rated picks remain the same except, but include new picks from Farmgirl Flowers and Petalled.
---
Valentine's Day is right around the corner and even if you plan to order two dozen roses for your loved one, it can be hard to decide which flower delivery service to use. It's crucial that the flowers arrive on time, in great shape and in the freshest condition so your loved one can enjoy them for as long as possible.
In the Good Housekeeping Institute, our Lab analysts have evaluated over 20 popular flower delivery services over the years to find the best options for every style and budget. We put each bouquet through rigorous in-Lab and at-home consumer testing, judging each service on a list of criteria that includes delivery time, initial appearance and longevity. Here, you'll find our top picks for the best flower delivery services that send all kinds of blooms and greenery across the country, from classic roses by the dozen to live succulent plants.
Our top picks:
You can read more about how we test flower delivery services in the Good Housekeeping Institute — plus everything you need to know to shop for flower arrangements online — at the end of this guide. Looking for more Valentine's Day gift ideas? Check out our gift guides to Best Valentine's Day Gifts for Her, 60 Easy DIY Valentine's Day Gifts and Cheap Valentine's Day Gifts.
Advertisement – Continue Reading Below
1
Best Overall Online Flower Delivery Service
The Bouqs Co.
2
Best Value Online Flower Delivery Service
1-800-Flowers
3
Most Convenient Online Flower Delivery Service
Amazon
4
Best Local Online Flower Delivery Service
Teleflora
5
Best Online Plant Delivery Service
The Sill
6
Best Online Flower Delivery Service for Long-Lasting Blooms
Venus et Fleur
7
Best Flower Delivery Service with Unique Blooms
Farmgirl Flowers
8
Best Online Succulent Delivery Service
Lula's Garden
9
Best Flower Delivery Service for DIY-ers
Petalled
How we test flower delivery services
Our Lab analysts have overseen the testing of more than 20 flower delivery services over the past decade. In our most recent round of tests, conducted in 2022, we evaluated 11 different flower and plant delivery services, gathering data on 33 flower arrangements in total.
In our testing, some bouquets were delivered by florists, while others were shipped directly from a farm or warehouse. While most services provided detailed instructions, very secure packaging, flower food and vases, others weren't ideal for giving as a gift and required a lot of work to put together.
In addition to Lab testing, we also conducted consumer testing for all services to see how the flowers arrived in real homes and how long they lasted. For anonymity and to test out how easy it is to order online, all testers ordered directly from flower delivery services on their own with a provided gift card. All flower purchases were also kept under $100.
Other flower delivery services that we tested, but didn't find a spot in our top nine picks were: Pro Flowers, FTD Flowers and Postal Petals. In our future flower delivery service testing we hope to include Urban Stems, Floom, Bloomsy Box and Enjoy Flowers.
During Lab testing, for each service, we placed an order for pink roses (if available) in a clear glass vase, paying extra for the vase if need be. Consumer testers could order any flower bouquet or plant that appealed to them. Upon arrival in our Lab, we inspected the packaging to ensure that the flowers were safely secured during delivery. We also evaluated the packaging to see if it was gift-worthy or a headache for the recipient.
Flower delivery services are often given as a gift and the sender does not necessarily see what actually arrives. If they are not as attractive as what is pictured online, or they wither or droop soon after arrival, they can be a disappointing gift. We evaluated all bouquets on arrival to see how they compared to their online photos and what condition the petals, stems and leaves were in.
A floral delivery should last at least a week without wilting, but that isn't always the case. We tested for longevity in our Lab to see how long flowers lasted and if they wilted gracefully or needed to get thrown away immediately. By evaluating these services and reporting our findings, we aim to help readers make a more educated purchase.
One additional tip to note: Flowers are very temperamental and sometimes a company cannot control how it is delivered or damaged in the mail. Always reach out to the company if you're unhappy with your results. Most flower delivery services will send a floral replacement if you are not satisfied with your delivery.
What to look for when shopping for flowers online
✔️ What are you trying to say: Most flower delivery service websites have categories where you can select arrangements designed specifically for a birthday, holiday or special occasion. Utilize the website as a tool to figure out which style of arrangement is best for your loved one.
✔️ Delivery method and speed: Some flower services have their arrangements delivered by local florists in your area, usually without any packaging. Other services ship directly from a farm or floral warehouse with lots of packaging to keep flowers secure. If you need flowers at the last minute or want flowers that arrive on a specific date look for websites that offer easy scheduling.
✔️ Budget: Sending flowers can be expensive. Know your budget before purchasing, look for sales around the holidays and keep in mind that some services don't include free shipping and shipping fees can be as much as $25 a bouquet.

✔️ Packaging and customization: The majority of flower delivery services offer the option to include a card with a short note, but other services also offer more customizations like colored ribbon, balloons or chocolates. Receiving flowers is special, but if you want to make it extra special for your recipient look to see how it will be delivered (florist vs. mail), packaged (vase vs. wrapped bouquet) and if you can customize the experience.

How to keep flowers fresh
Here are some of our experts' best tips for maintaining your flowers for as long as possible:
Water: Fill your vase with lukewarm water. Be sure to change the water every two days to help keep bacteria at bay.
Food: Most flower deliveries will come with a packet of "food" that contains bactericide. Add it to your water per the instructions on the back.
Trim: If you have to cut your flowers, do so on an angle to help them soak up water more efficiently. You should also remove any leaves from the stem that are towards the bottom so they don't contaminate the fresh water.
Why trust Good Housekeeping?
Eva Bleyer is the reviews analyst in the Good Housekeeping Institute Kitchen Appliances and Innovation Lab. Eva tests and writes about all things home, kitchen gear, culinary products and beyond. Eva's mom is a professional florist and she grew up playing in the walk-in flower cooler while her mom was working. Eva has a wealth of knowledge in plant and flower varietals, building arrangements, gardening and farming thanks to her mom and the agricultural classes she took while in college at NYU. In her free time, Eva loves visiting botanical gardens, farms and arranging beautiful bouquets for her dining table.
Advertisement – Continue Reading Below