Halloween is quickly approaching, and what better way to celebrate this spooky season than by crafting your very own bewitching decorations? With a plethora of DIY Halloween decor ideas that you can create with your own hands, finding the perfect project doesn't have to be difficult. Whether you love all things horror or are more into the cutesy side of Halloween, there are plenty of options! 
1. Diamond Painting: A Unique Halloween Twist
Decorate with Halloween diamond paintings. You might be surprised by the wide range of designs available in this relatively new craft. Choose from diamond paintings adorned with haunted mansions, adorable pumpkins, witches, and other seasonal favorites. Or, if you prefer, buy diamond paintings that showcase landscape scenes and fall's splendor in sparkling gems. You can even find some that would work in a haunted house!
2. Eerie Elegance: Creepy Candle Holders
Consider crafting candle holders that exude eerie elegance to set the mood for your Halloween soiree. Check out YouTube for videos of how to make candles dripping with simulated blood, adorned with faux spiderwebs or decorated with adorable ghost faces, they will cast an uncanny glow over your haunted abode. Place your candles on the dining table or nestle them in dark corners to add sinister sophistication to your home for the Halloween season.
3. Spooktacular Wreaths: Welcoming Guests with Style
First impressions matter, and that applies to your haunted house, too! Greet your guests with style by adorning your front door with DIY Halloween-themed wreaths. Imagine wreaths brimming with black roses, faux spider nests and perhaps some creepy eyeballs. These wreaths welcome visitors and set the tone for the spine-chilling journey that lies within.
4. Hauntingly Good Silhouettes: Shadow Play Decor
Don't underestimate the power of shadows in creating an eerie atmosphere. Crafting haunting silhouettes of witches on broomsticks, ethereal ghosts and menacing monsters is a fun and easy project. The key lies in perfecting backlighting techniques, allowing these figures to come alive after dark. Place them strategically in windows to maximize the eeriness.
5. Bewitching Table Centerpieces: Dining in Style
Your Halloween-themed feast deserves a centerpiece that captures the essence of the occasion. Arranging darkly elegant table centerpieces is a perfect way to set the scene. Consider using pumpkins, skulls, mirrors and candles, or make them out of materials you have, designing one-of-a-kind table decor. With a dash of creativity, you'll have table settings that are both macabre and magnificent.
6. Ghostly Glowing Jars: DIY Lanterns
When night falls, let ghostly glowing jars illuminate your path. Transforming ordinary glass jars into lanterns that radiate an eerie glow is surprisingly easy. Pick up some paint, and stencil ghostly silhouettes onto the jars. Add battery-powered tea lights to create a warm glow. 
7. Mystic Mirrors: Reflecting the Unknown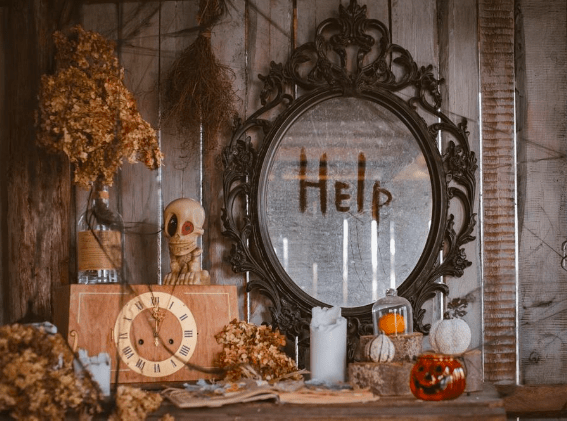 Step into the mystical world of haunted mirrors. These bewitching creations not only serve as reflective surfaces but also as portals to the unknown. With a bit of imagination and some glass etching cream to create spooky designs, you can turn any mirror into a piece of haunted art. Encase your haunted looking glass in an antique frame to complete the look.
8. Terrifying Textiles: Spooky Fabric Creations
Drape your domain in terrifying textiles that whisper tales of the supernatural. Complete your haunted atmosphere using Halloween-themed fabric decor, such as tablecloths, curtains, and banners. 
9. Bone-Chilling Banners: DIY Wall Art
Blank walls offer the perfect canvas for your darkest decor desires. Adorn them with bone-chilling banners that send shivers down the spines of all who dare enter.
10. Gruesome Gallery: DIY Wall Art
Transform your walls into a gruesome gallery of horror. Craft your own DIY wall art featuring iconic Halloween imagery — from menacing monsters to classic horror movie scenes. Use canvas, wood or even repurposed frames to display your spine-chilling artwork. Looking for something more fun and less scary? Decorate with wall art that matches your Halloween costume! Think Marvel™ paintings if you plan on being a superhero or fantasy art if you're going as a princess.
11. Terrifying Terrariums: Mini Haunted Gardens
Dive into the world of Halloween-themed terrariums and miniature haunted gardens that showcase your love for the macabre. Craft tiny gravestones, tombstones and eerie landscapes within glass containers. Choose plants that thrive in the eerie ambiance you've crafted, and watch as your garden of terror flourishes and grows year-round.
12. Wicked Windows: Creepy Coverings
Your windows offer a unique opportunity to unleash your creativity and "spookify" your home's exterior. Transform them into portals to the supernatural with gel clings, decals and scary silhouettes. Combining these elements with strategic lighting will create a mesmerizing facade that intrigues and terrifies everyone passing by.
13. Ghoulish Garden Ornaments: Outdoor Elegance
If you have a garden or lawn, don't miss the opportunity to infuse your outdoor space with the Halloween spirit. Craft ghoulish garden ornaments that turn your backyard into a chilling graveyard. From tombstone decorations with eerie epitaphs to zombie hands that seem to claw their way from the earth, there are all sorts of ways to turn your outdoor space into a haunted landscape filled with things that creep, crawl, and go bump in the night. 
14. Cauldron of Candles: Enchanting Illumination
Turn empty cauldrons into enchanting sources of illumination. Fill them with LED candles or string lights to create an eerie glow that bathes your space in a haunting light. Place these cauldrons on porches or pathways, or use them as centerpieces for a bewitched dinner table.
15. Spellbinding Scares: Potion Bottles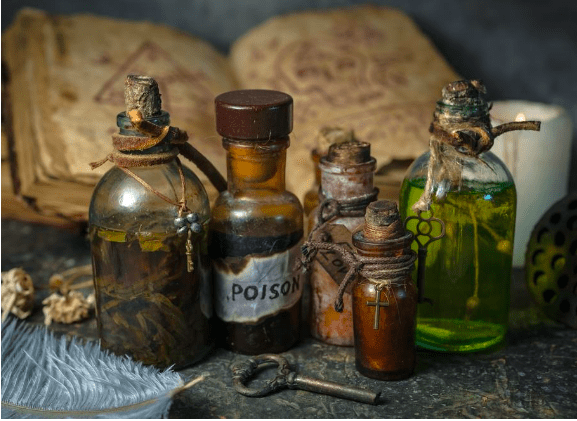 No witch's lair is complete without a collection of vintage bottles filled with mysterious elixirs. Craft your own creepy potion bottles by sourcing various glass containers and filling them with colored liquids. Create spooky labels with names like "Poison," "Bat Wing Tonic," and "Vampire Blood" for your bottles. Then, arrange them on shelves for a scary vibe.
Make Your Own Halloween Spirit
Creativity knows no bounds when it comes to Halloween decor. Embrace the spirit of the holiday, let your imagination run wild, and transform your home into a haunted masterpiece that leaves a lasting impression on all who dare to enter. Dare to be different, and let your Halloween spirit shine brighter than a full moon on the darkest of nights. As you embark on this ghoulish journey, remember that the true magic of Halloween lies not in store-bought decor but in the creations that spring from your own twisted imagination. Happy haunting!