The biggest problem with summer is the irritating temperature that makes your night uncomfortable and stressful. Most people find it uncomfortable to sleep well at night during the summer as heat and warm bedding create a heck of comfortable sleep. Uncomfortable bedding and blanket are one prime reason behind stressful and hot sleep. This brings in the need for a high-quality blanket that can lower your body temperature and give you comfortable sleep during the winter season. 
Numerous blankets are available in the market that claims to do wonders for healthy sleep. I tested multiple products, and Avolare arc-chill Cooling Blanket is one of the good options that I considered and recommended to others. 
Every buyer prefers comfort as the prime factor to shortlist any pillow cover, blanket, or bedsheet. This Avolare Arc-Chill is a comfortable blanket that fulfills what it claims. My comparison and research find that the Avolare Arc-Chill gives you high-end comfort that others fail to offer.
You can use this Arc-chill blanket from either side. It means you can enjoy a healthy sleep without worrying about the right side. This Avolare Arc-Chill is made of natural bamboo fiber, making it a natural yet highly effective product. The overall design of this blanket is perfect for long hours of sleep. 
One side has cotton fiber that makes it perfect for winter, while the other side has cooling fiber that is perfect for the summer. In short, it is an all-season blanket that gives you ideal sleep without worrying about the chilly winter and warm summer.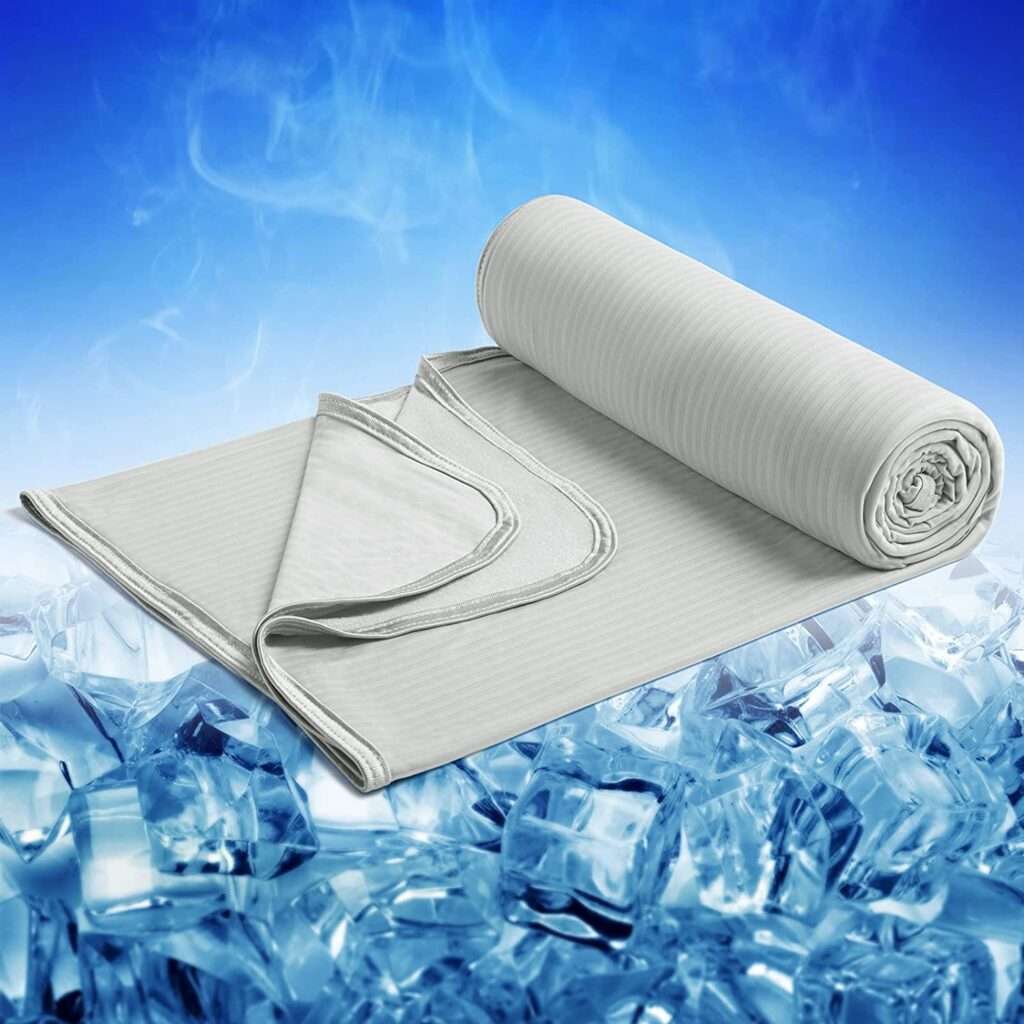 The Avolare Arc-Chill is highly effective in regulating the temperature and lowering it by 2-5 degree Celsius. Hence, it is a perfect option to handle your terrible heat and reduce it for healthy sleep. Another great point about this Avolare blanket is its build quality. It has a breathable material that helps you sleep comfortably in or under the blanket. It has a silky touch that makes it highly effective for long hours of use. The high-density threading and needling make this material lightweight.
In terms of maintenance, this arc-chill blanket comes with instructions that allow it to be washed in the machine. You can wash it gently at 30-degree Celsius, which is good enough to clean it for subsequent use. However, the use of bleach isn't recommended while cleaning. Moreover, you are also suggested to avoid using iron and dry cleaning this blanket.
Overall, this Avolare cooling blanket is a good option if you are looking for a comfortable and cool blanket for your warm bedding. This blanket serves you exactly what's claimed by the manufacturer. You can buy it for your home or a gift for your loved ones. In either case, it will benefit you a lot.
Ready to buy this blanket? Visit HERE and make a wise purchase today. If you are buying now, you are eligible to get a discount of 10 percent. Use discount code VACFIGQS before 2023-12-31 and save a significant sum on the market price.