There's just something about car interiors: They seem to get dirty as quickly as you can clean them. Maybe that's because, really, your car is your home on wheels. As you rush from place to place, your vehicle quickly becomes the catchall spot for toys, food wrappers, bottles and basically anything else — especially if you have kids or pets in tow.
Think about it. You and your kids sometimes sit in these seats when you're sweaty, dirty or sick. By thoroughly cleaning car seats — leather, vinyl or cloth — you'll reduce unwanted odors and give your car's interior a clean, refreshed look.
Though it might sound like a tedious task, cleaning your car at home is more affordable and convenient than getting it detailed by a professional. Yes, even the places where crumbs seem to disintegrate into the seams. So when the mess starts to get out of control, follow this guide from our experts in the Good Housekeeping Institute Cleaning Lab on how to clean car seats, no matter what kind of upholstery your vehicle has.
How to clean your car's seats

Whether you have leather or cloth seats, the first step is to vacuum your car seats with the upholstery or brush tool. After that, use the crevice tool to reach crumbs and dust stuck between the seats and in the nooks and crannies. A cordless handheld vacuum outfitted with these types of attachments is the most convenient vacuum for this task. That way, you don't need to drag out an extension cord. Plus, you'll have increased maneuverability in such a tight space.
Once you've sucked up any crumbs, dirt and other debris, follow the appropriate targeted cleaning method, based on whether the seats in your car are leather, vinyl or cloth.
How to clean leather car seats
What you'll need:
Leather cleaner and conditioner
Three microfiber cloths
One small area at a time, work a leather cleaner, like GH Seal Star Furniture Clinic Leather Cleaner, or a mild soap into the leather with a soft, damp cloth.
Rinse with another damp cloth until all soap or cleaner is removed.
Buff with a dry cloth. Go over arms and headrests multiple times if necessary.
Apply a protectant, like GH Seal Star Furniture Clinic Leather Protection Cream, to condition the leather, making it easier to remove future stains. (Both products are included in Furniture Clinic's Leather Care Kit.)
Pro tip: If your leather car seats have perforations, use as little liquid as possible.
How to clean vinyl upholstery car seats
What you'll need:
All-purpose cleaner
Microfiber cloth
Spray an all-purpose cleaner, like Car Guys Super Cleaner, over any trouble areas.
Rinse, if needed, and wipe dry with a microfiber cloth.
How to clean cloth car seats
What you'll need:
Upholstery cleaner
All-purpose cleaner
Soft brush
Dry cloth
To make quick work of the task, use a portable carpet and upholstery cleaning machine, like the Bissell Little Green.
For stubborn stains, you can also use a carpet and upholstery cleaner like Bissell Professional Pet Stain & Odor Remover, which works on all kinds of stains and has enzymes to tackle odors. To use, spray it on, work it into the stain with a cloth or soft brush, let it sit according to the label's directions, then rinse with a cloth and blot dry. Reapply for stubborn stains, if needed.
FAQs
How often should you clean your car's seats?
Even if you're not picking up another couple for date night and there's no family road trip on the horizon, it's a good idea to give your car's interior — seats included — a deep-cleaning about once a month. To make the job easier, use your handheld vacuum to suck up visible dirt and debris as needed. Depending on your lifestyle, this may be as frequently as once a week.
What shouldn't I use to clean my car seats?
Cleaning your car's seats is simpler than it sounds — and you don't even need to make a DIY cleaner. Things like laundry detergent, baking soda and shaving cream will only make the task more complicated than it needs to be. A handheld vacuum will do most of the heavy lifting for you, no matter what type of seats you have. For leather seats, a quality leather cleaner and conditioner will take you the rest of the way. For vinyl upholstery, use an all-purpose cleaner. And for cloth seats, rely on an upholstery cleaner if you have one.
How do I keep my car seats cleaner longer?
If you log a lot of miles in your car — particularly with kids and pets in tow — it can be challenging to keep your seats as pristine as they were right after a deep-clean. But a few common-sense practices can help, including these: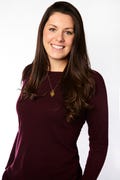 Contributing Writer
Brigitt is a writer, editor and craft stylist with nearly 15 years of experience. She specializes in lifestyle topics, including home, health, parenting, beauty, style, food, entertaining, travel and weddings. She has written for Glamour, People, Good Housekeeping, Women's Health, Real Simple, Martha Stewart, Apartment Therapy, The Spruce, and more.