Whenever you plan to throw a party, the backyard or patio is the best option that you choose for the event. Many homeowners even find an open carport as an ideal party place. However, your efforts are worthless without the perfect lighting. Outdoor string lights are the basic necessity at such parties. Novtech brings you perfect string lights that you can check out and turns your extra space into an ideal party spot. Based on my personal experience, I think of this product below.
What did I like about this product?
Enough Length: 38.5 ft is far enough to cover your patio or backyard and decorate it with the perfect lighting for your upcoming party.
Completely Waterproof: Electricity and water are the enemies that never entertain each other. Yet, this outdoor string light is entirely waterproof, saving you from unpredicted mishappening.
Removable Bulbs: If any bulb is no longer alive, it's time to replace it. This string light by Novtech comes with removable bulbs. It means you can replace the damaged bulb and bring your light back to life.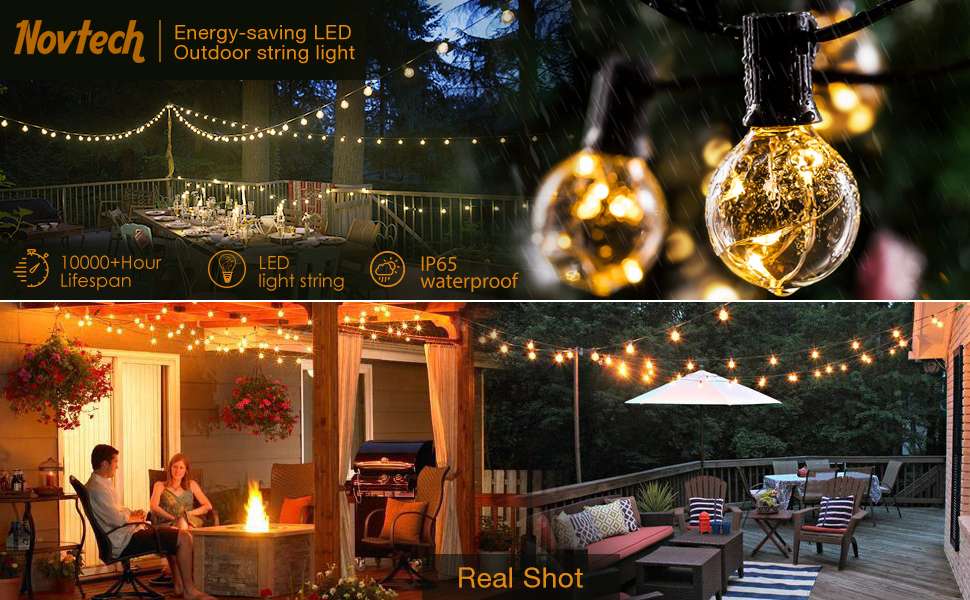 LED Lights: An LED light is the most cost-effective investment to cut your power bills. This string light comes with 100% LED bulbs, saving you significant electricity without compromising the charm and beauty of your backyard, patio, or event venue.
They provide extra 3 bulbs for customers to change so customers will finally get 30+3 PCS G40 Glass Bulbs.
Quality Support: It comes with 12 months of quality support. You can raise a query if you find any issue with the product.
What I Don't Like in this product?
No Animation Available: These lights are continuous stand lights, making it a bit dull when you are looking for a party ambiance with animated lights.
Same Voltage Bulbs Required: Different bulbs have different voltages; hence you need the same voltage bulbs for this string. You can't mix different bulbs with running this outdoor string.
NOTE: Some customers have also complained about flickering bulbs after using these lights for more than six months.
This outdoor string comes in three different lengths, i.e., 26ft, 38.5ft, and 58ft. So, you can make your purchase based on your requirement. However, you must note that the price will vary depending upon the length you choose. Undoubtedly, there are numerous alternatives available online, which gives a solid competition to this product by Novtech. In terms of pricing, this outdoor string light is cost-effective.
Ready to make a purchase? Don't wait anymore and visit https://www.amazon.com/Novtech-Outdoor-String-Lights-30Bulbs/dp/B07KP9QLMR to check out and prepare your backyard or patio for the upcoming party. The manufacturer further provides you with a flat 5 percent discount on every purchase. Use 'DR22C4XE' to checkout before 28 Feb 2023 to make a smart purchase at a discounted price.
So, what are you waiting for? Enhance the ambiance of your outdoor with these awesome string lights and turn your usual weekend party into memory forever.'