Today solar panels have become an efficient and practical solution to beat the problem of electricity shortage. Numerous solar-powered electric equipment is available nowadays that are only sunlight dependent on delivering you bright light during the night.
If you are looking for a perfect solar spotlight for your patio or garden, there are numerous buying options. Quntis solar landscape spotlights are one of the best products we found on the internet. 
The brand offers these solar spotlights in two-pack options, i.e., 2-pack spotlights and 6-pack spotlights that you can buy according to your need and budget. Before you decide on Quntis solar spotlights, we share our feedback below about them.
Brightness Level: The Quntis solar spotlights include 24 high-bright LED lights settled in a complete optical lens design. These spotlights give you a broader and brighter light source, nearly 50% more than ordinary spotlights available in the market.
2-in-1 Design: These outdoor spotlights are given a unique design perfect for the grounds and walls. You can install them on the walls without worrying about the wiring. 
Auto On/Off: You never need to worry about switching these Quntis spotlights on/off. They come with an auto on/off feature that is completely easy to use. With automatic charging and the On/Off feature, you are done after its installation. It can be stick into the ground but also on the mount wall with the screws included. Easy to install just need 2 minutes and no need extra wiring. After one installation without any operation can be safely used.Perfect lighting up your pathway, garden, yard, driveway, patio,walkway etc.
Resistant to Extreme Weather: The Quntis solar landscape spotlights are made with high-class ABS material that makes them resistant to extreme weather like high heat, rain, or other adverse weather elements. It has
Heat resistance up to 60-degree celsius

Frost resistance up to -40-degree celsius

IP65 Waterproof
Quick Charging: Like usual solar spotlights in the market, the Quntis landscape spotlights can help you save the power bills without compromising the light. Compared to other spotlights, these outdoor spotlights take a shorter charging time, i.e., 4-6 hours. Furthermore, it can serve you for 6-12 hours with high bright light.
High-efficient Solar Panel: With laminated mono-crystalline silicon solar panels, the pure silicon content is over 95%, the light conversion rate is increased from 16.5% to 20.5%.High-efficient solar power achieve 0 electricity lighting. Charging time is 4-6 hours (under direct sunlight).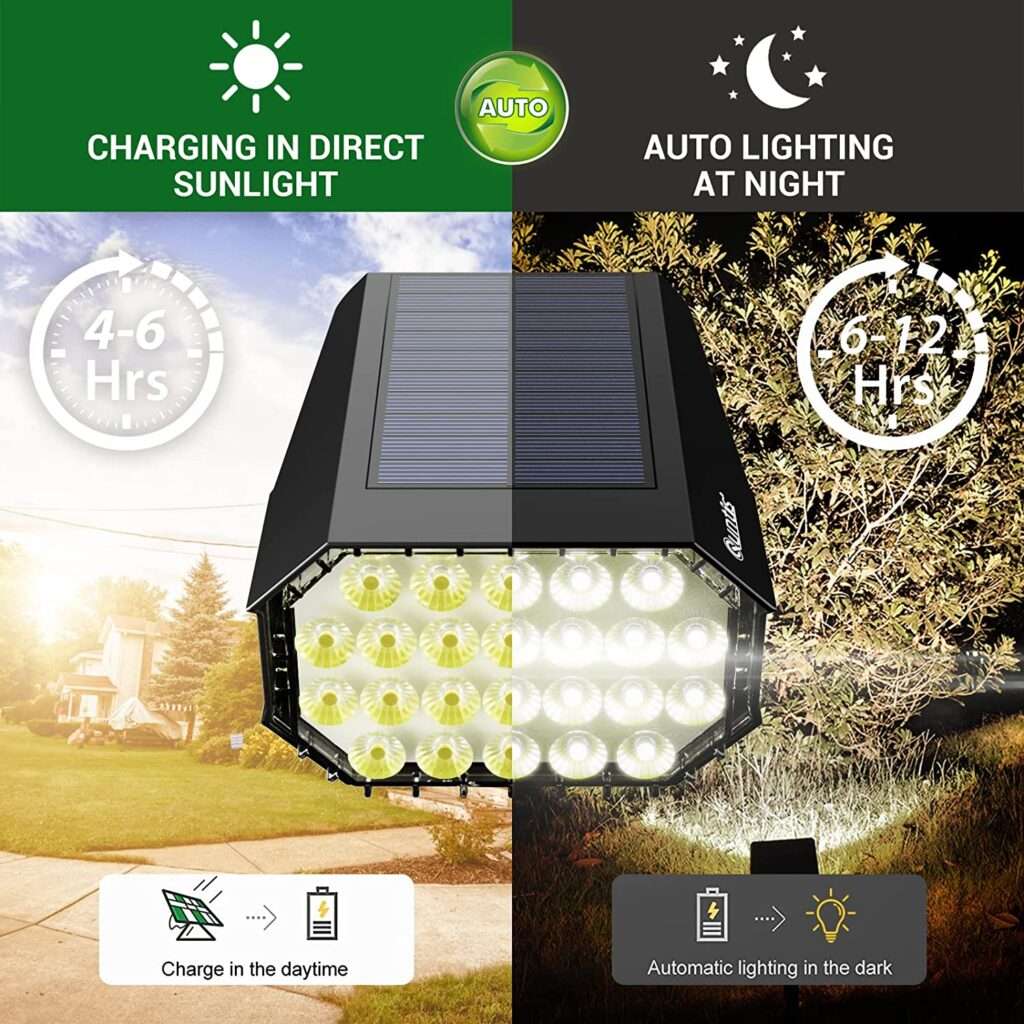 NOTE: Supports 90° solar panel adjustment for optimum direct sunlight.
2 Lighting Modes: The Quntis outdoor spotlights have two brightness options that affect their delivery time. High brightness gives 100% brightness and lasts for up to 6 hours. The low bright mode gives 45% brightness that lasts for up to 12 hours. 
The memory chip automatically decides between high brightness and low brightness, which fascinates us.
Now, let's look at some points that we don't like much about the Quntis 2-in-1 spotlights.
Vulnerable to Theft: Anyone can carry them out because they don't have any fixed install option (on grounds). They lack the right security option. They are only secured if mounted on walls.
Except for this, we don't find any drawback of investing in this product. In case of any malfunction, you can reach their customer service as they provide you with a 12 months full replacement/refund option. Moreover, they commit to responding to your query within 24 hours.
With this, you should definitely add these spotlights to your cart and checkout to enhance your driveway, pathway, patio, and more.
Click here to Shop Now and Get Extra 10% OFF, use coupon code: 5E60LTQ8
Expiry Date: 2025-12-31