A bedroom is a space where you rest and recharge after a long and hectic day. Because of this, the bedroom may be a blessing in disguise. So, here are some stylish bedroom designs to help you create your own perfect resting space. 
1. A traditional touch to the bedroom
The traditional style is rooted in the past, but the design can be embraced to create a beautiful look that fits a bedroom today. Some traditional elements like mirrors and chandeliers, accessories, furniture made of wood, and the range of colours from deep red to other jewel tones can be used to give a traditional look to the bedroom. Adding gold or silver can also add sophistication and elegance. 
2. Green and White Invigorates A Room
People who want their bedroom to be a soothing and refreshing retreat can consider a green and white palette. Green colour adds warmth to a white room and brings in a touch of nature. People can add botanical touches to the bedstead. They can also add lovely touches with stylish Roman shades, a sunburst mirror, casual cottage-style white furniture. The result is a room with green and white touches that leaves a calming touch that refreshes your senses. 
3. Pops of colour add joy to the bedroom
A few hot pops of eye-catching colour heat neutrals or classic black-and-white, and pinks of all shades are always a safe bet when it comes to bedroom décor. It creates an abstract look to the wall and room that is eye-catching and cheerful. The whole effect of the room can also be amplified by the natural light as well. The whole effect of the room can also be amplified by the natural light as well. However, if your room doesn't get exposed to natural light, you can try adding some colorful lamp shades or a custom neon sign from www.neonfilter.com if you're wanting a more unique look.
4. Eclectic style redefined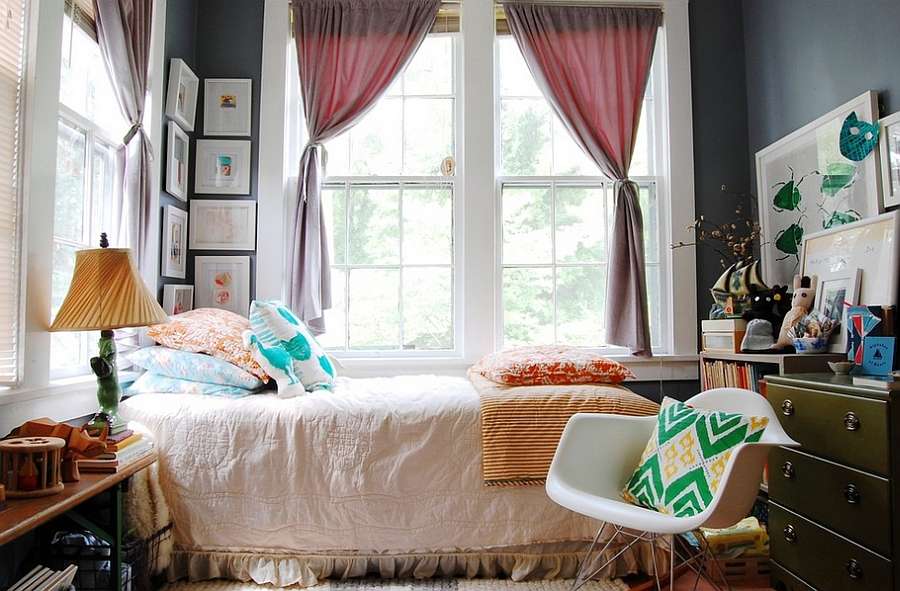 To make the bedroom dramatic and distinctive, bold colors like bright green for curtains, pink for cushions, and strong purple walls can be used. Brown or grey can be used in the remaining area of the room so that it allows the vibrant colours to pop out. The wall's beauty and appeal can be enhanced by using a wooden frame. Hang lovely curtains and decorate with fairy lights to make the whole ambiance romantic. The lamps and pendant lights further give an eccentric look to the room. 
5. Bedroom design with gold accents
The golden shade is blended with multiple other vibrant colours that will enlighten the bedroom with beauty and panache. It will give the bedroom a stunning touch. Gold is a symbol of style and royalty, which always gives you the perfect bedroom décor and allows you to live like a king in your castle. Place a lovely carpet for added warmth and get a lovely chandelier installed to light up the area. Add colourful furnishings to break the monotony of the room. 
6. Bedroom with Eye-catching Patterned floors and walls
The bedroom manages to feel stylish and distinct by combining patterned, colored, or textured walls. Decorate your walls with lovely wall arts and comfy and smooth furniture. One can make a collaboration that makes the room feel spacious, attractive, and appealing. Make it cozier by allowing natural light to enter on one side while the other glows with the warm light from overhead hanging lamps. The patterned walls with a cornucopia of patterns seamlessly integrate with the floor and add a unique touch to the bedroom. 
7. Creative touch to the children's bedroom
The color combinations like the sofa's bold blue, the lovely, soft blankets give a cute look to the kids' bedroom. Allow children's toys to be displayed on attractive shelves with attractive and amusing toys. It will make the kids' room more interesting and attractive. Drawer knobs and handles with different cartoon characters can also help you decorate the room according to the theme. 
8. Bedroom with ethnic charm
Nowadays, contemporary or ethnic designs have a beautiful charm. With the wooden furniture, colour tones like gold, copper, bronze, and wide windows overlooking a substantial garden, the bedroom becomes a peaceful and soothing corner of your home. The ceiling is made up of bamboo, carved pillars made of wood, and painted light blue to go with the walls gives a leisurely aura to the bedroom. 
9. Black colour set the right mood
When it comes to setting a moody vibe in the bedroom, there's nothing better than the black colour. It helps to make a style statement. It is a neutral colour, so it goes well with other shades and colors and creates magic. It can create the illusion of an expansive space. One can use the bright, colourful cushions with an assorted mix of patterns. The effect of this décor is astounding. 
10. Lively and colourful bedroom
The bedrooms with colourful walls and furnishings have to display an optimal utilization of every nook and cranny. The beautiful pastel shades on the bed's headboard add a dash of colour to the monochromatic setting. Impart a luxe feel with silky and satinish furnishings. On the one hand, the wall has an attractive shelf system that acts as a smart storage solution and adds to the attractive décor.