Home bar stools have fast become a need. Your kitchen's bar counter is a great location to entertain guests and unwind after a long day at the office. If you already have a fully equipped bar counter, the next thing on your to-do list should be to choose the right Hampton style bar seat.
Choosing bar and counter stools is more difficult than it appears. There are several tips available on how to select the appropriate height and design of rattan bar and counter stools. But, in our opinion, the most difficult aspect of choosing kitchen bar and counter stools is determining what would work best in your kitchen. The tips below will help you choose the right stools. 
Choose right height
Let's start with the fundamentals. "What is the difference between counter stools and bar stools?" is a question that is commonly asked.
Counter stools, with a normal height of 34-39 inches, are used under worktops, whereas rattan bar stools, with a standard height of 42 inches, are used under bars. The usual counter stool height is 24-29 inches, allowing it to fit beneath the counter. They go perfect with bar or countertops having height 35″ to 39". Take measurements of the table, island, or bar you currently have. There should be 21″ – 22″ of space between counter-height stools that are 16″ – 18″ broad. Each stool should have 24″ – 25″ of room for stools that are 19″ – 22″ broad.
Although there are exceptions, most rattan bar stools or counter stools at conventional heights should fit beneath any standard-height bars or worktops. After you've measured your counter or bar, double-check the measurements of the stool you're considering to be sure it's within the typical range.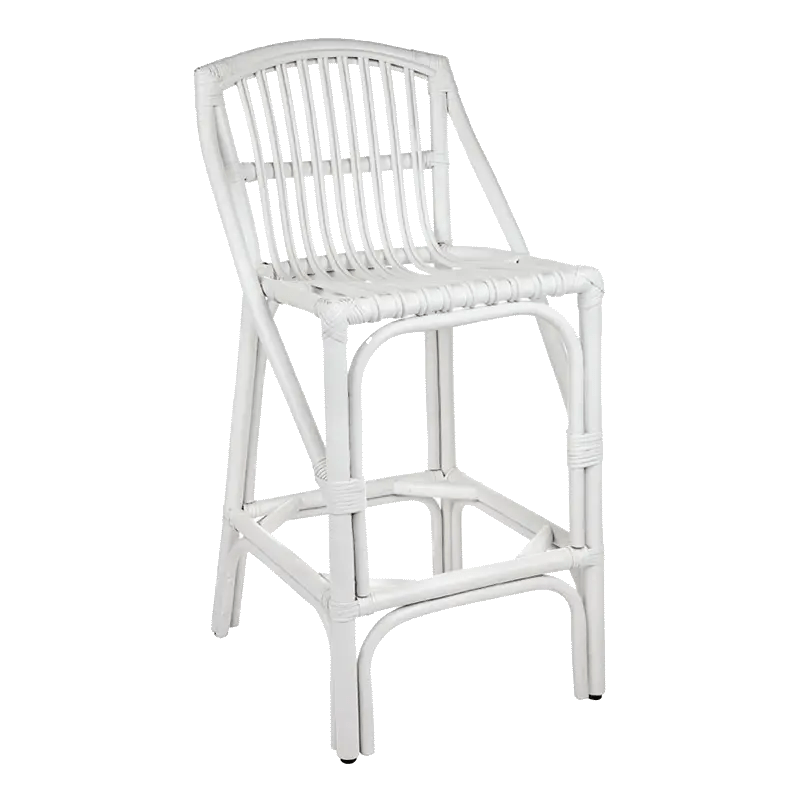 Take function into account  
Consider how you intend to use the stools in your home. We choose a swivel stool or a backless stool if customer needs additional flexibility. If comfort is a priority, stools with arms or upholstery are recommended.  Comfortable and modern bar stools are available from La Maison in a variety of styles.
There are several reasons why one style of stool is preferred over another. Some of our clients with small children choose not to utilize swivel or backless stools, while others like to be able to move them around the house for various purposes. Whatever your motivation, make sure you like the function of your stools as much as the way they appear! After all, you're likely to use them on a daily basis.
Choose your style
This is the most enjoyable portion, but it may also be the most difficult. There are innumerable ways to think about the "correct" way to accomplish anything in interior design, just as there are countless ways to think about the "proper" way to do anything else. That is especially true when it comes to picking bar stools or counter stools.
What works best in your kitchen is mostly depending on its design. When it comes to rattan bar stools and counter stools, it's difficult to pinpoint what we "usually do" (or anything for that matter).
When it comes to picking your bar stools, material and features matter just as much as they do with any other piece of furniture. Leather bar stools add luxurious touch to your kitchen. Whether you're seeking for a certain style or a long-lasting substance.
Material and Features
Wooden bar stools are a good (though pricey) alternative that can go with almost any design. A wooden bar stool with an upholstered cushion is a good choice for enhanced comfort.
Rattan and wicker bar stools have a relaxed, timeless look that makes them as at home in the kitchen as in the sunroom. They're portable and look modern.
With or without arms: When paired or in a trio, armless counter-height stools allow greater room in between stools because they don't have arms. This makes it easier to get into and out of the chair, although stools with arms seem more elegant and provide additional comfort. Keep in mind that you'll need to add additional inch or two between each stool to accommodate for the extra space taken up by the arms.
Footrest: With a footrest, you can make your counter-height stools even more relaxing. These are normally rungs added to the lower part of the stool's legs to provide a place for your feet to rest when you sit. They're useful for keeping your legs from hanging.
Conclusion 
It's not only about having a good time when it comes to bar furnishings. It has long been used in small kitchens or apartments since it is quite handy and saves space. Sitting at a bar, which may come in a number of forms, heights, and shapes, is also quite calming.
Bar stools are available in a wide range of prices and styles, so choose one that you prefer. A bar stool is more than just a piece of functional furniture. It's also a monetary investment in your home that allows you to be creative. La Maison offers wide range of cheap bar stools with great quality and comfort. Give bar stools wiki a go for more information.